We have created the Hexawise Software Testing Glossary. The purpose is to provide some background for both general software testing tool and some Hexawise specific details.
While we continue to develop, expand and improve the Hexawise software itself we also realize that users success with using Hexawise rests not only on the tool itself but on the knowledge of those using the tool. The software testing glossary adds to the list of offerings we provide to help users. Other sources of help include sample test plans, training material (on software testing in general and Hexawise in particular), detailed help on specific topics, webcast tutorials on using Hexawise and this blog.
In Hexawise 2.0 we integrated the idea of building your expertise directly into the Hexawise application with specific actions, reading and practicums that guide users from novice to practitioner to expert to guru.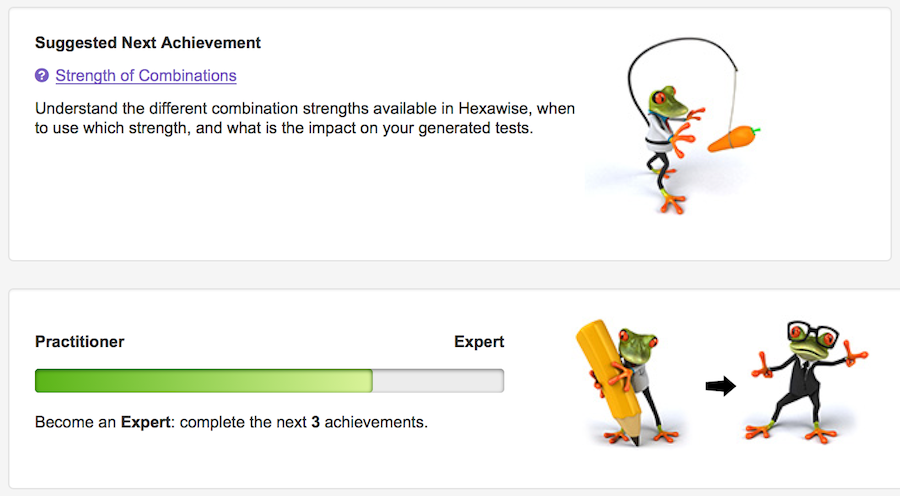 View for a Hexawise user that is currently a practitioner and is on their way to becoming an expert.
We aim to provide software services, and educational material, that help software testers focus their energy, insite, knowledge and time where it is most valuable while Hexawise software automates some tasks and does other tasks - that are essentially impossible for people to do manually (such as creating the most effective test plan, with pairwise, or better, coverage, given the parameters and values determined by the tester).
Our help, training and webcast resources have been found to be very useful by Hexawise users. We hope the software testing glossary will also prove to be of value to Hexawise users.
Related: Maximizing Software Tester Value by Letting Them Spend More Time Thinking - Hexawise Tip: Using Value Expansions and Value Pairs to Handle Dependent Values - Maximize Test Coverage Efficiency And Minimize the Number of Tests Needed