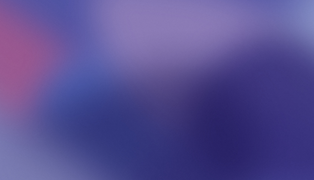 On October 6th, I informally launched testing.stackexchange.com as "the stackoverflow.com for Software Testing" without much hoopla. So far, less than a month later, with no advertising other than word of mouth, the initial results are very promising. We've had approximately:
70 new users join as members and contributors
50 software testing questions
160 answers to those questions
2,200 views of the questions and answers
The most important development is not reflected in the numbers above. More important, by far, than the number of the participants have joined is the quality of people who are contributing. Members of the forum include some prominent experts including: Jason Huggins (creator of Selenium and cofounder of Sauce Labs, Alan Page and Bj Rollison (of "How we Test Software at Microsoft" fame), Michael Bolton (the testing expert, not the singer), Fred Beringer, Elisabeth Hendrickson, Joe Strazzere, Adam Goucher, Simon Morley, Rob Lambert, Scott Sehlhorst, etc. etc.). Given the high quality people the site has attracted, the quality of the answers delivered has been quite high. Perhaps the quality is also above average because people answering know that their answers will be analyzed by thoughtful testers and voted up (or down) based on how good they are. In short, testers are asking good questions and getting them answered which is why I created the site in the first place. I'm cautiously optimistic about the future: if the site
Members so far include: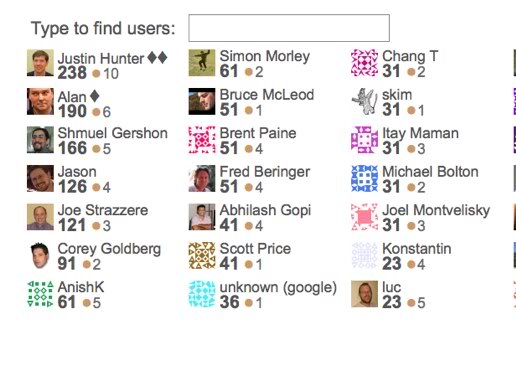 The most viewed questions so far include: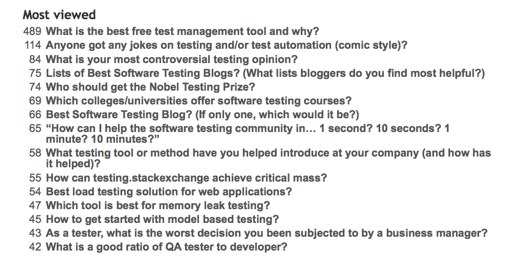 The most recent questions being asked and answered are: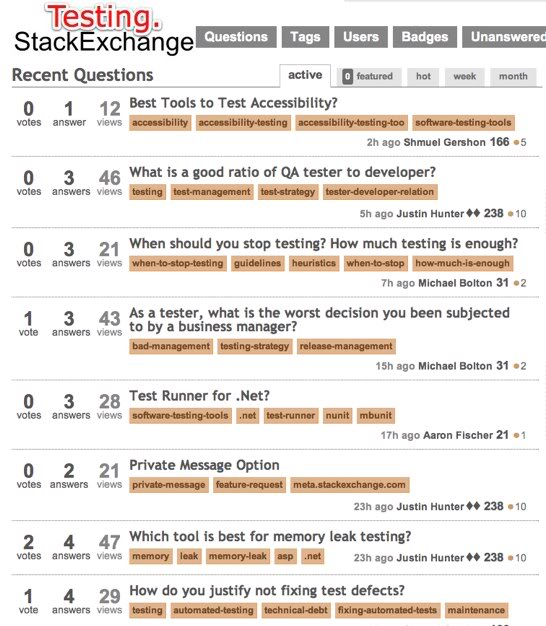 I'd like to extend special thanks to Alan Page (who likes the idea so much that has volunteered to join me as a co-manager/Moderator of the site), to Shmuel Gershon, Jason from NC, and Joe Strazzere for being particularly active and to Alan Page, Corey Goldberg, Shmel Gershon, and Konstantin for helping to get the word out about the form through their blog posts telling the world about testing.stackexchange.com. Without their combined help, we'd be nowhere. With their help and support, we're building a place where software testers can seek and receive high-quality, peer-reviewed answers to their testing questions.
Please help us succeed by spreading the word, asking a few questions, answering a few, and voting on the best answers.
Thanks everyone!