As I looked at our administrative dashboard for Hexawise.com today I was struck by how diverse our users are. I was looking at the most active users in the last week and the top 11 users were from 8 different countries: USA, France, Norway, India, Israel, Spain, Thailand and Canada. The only country with more than 1 was the USA with 2 users from Florida and 1 from Wisconsin. Brazil, Belgium and the Russian Federation were also represented in the top 25.
If you look at the top 25 users in the last month, in addition to the countries above (except Belgium) 3 more countries are represented: China, Netherlands and Malaysia.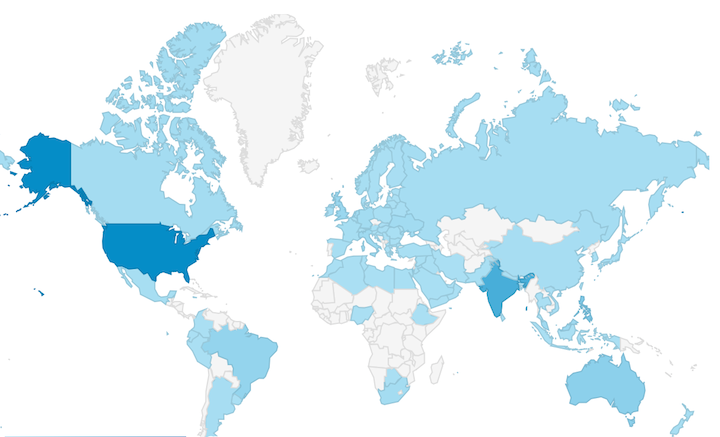 Visitors to the Hexawise web site in the last month by country.
Looking at our web site demographics the top countries of our visitors were: United States, India, Philippines, Australia, Brazil, United Kingdom, Israel, Malaysia, Italy and Netherlands. In the last month we have had visitors from 84 countries.
It is exciting to see the widespread use of Hexawise across the globe. The feedback on our upgrades included in Hexawise 2.0 have been very positive. We continue to get more and more users which makes us happy: we believe we have created a valuable tool for software testers and it is exciting to get confirmation from users. Please share your experiences with us; knowing what you like is helpful and we have made numerous enhancements based on user feedback.
Related: Empirical Evidence for Using Pairwise and Combinatorial Software Testing - Hexawise TV (webcasts on Hexawise and wise software testing practices) - Training material on Hexawise and software testing principles