As a Consultant at Hexawise, I work with users at our clients to ensure they are implementing and utilizing Hexawise to its highest potential. During the beginning stages of the Hexawise rollout process at companies, I work with stakeholders to ensure the proper plans are in place to set up Hexawise users for success in applying the tool towards their testing efforts.
I train staff at clients on the use and application of the test design tool, while also designing sets of optimized scenarios for their projects myself. Each client's situation is unique. I approach each one of these challenges with an open mind and work with testers, business analysts, developers, and other stakeholders to provide value in developing optimized, data-driven sets of tests for their testing initiatives.
Recently, a user at one of Hexawise's newer client companies did something that the Hexawise team has rarely seen before in our ten years of existence. This client, a renowned health insurance firm, purchased an enterprise-wide Hexawise license in order to improve and streamline their test design and execution processes. The team realized there was a significant need to improve testing coverage and reduce their number of tests, while sticking to their overall strategies for the current year.
A new user at this firm, Deidra, realized there was a need to improve the team's Hexawise skills. Hexawise incites a great deal of collaboration within testing teams and stakeholder groups because a mindset shift is necessary to design sets of Hexawise inputs and scenarios. So, while coming to this realization, Deidra proactively decided to bring testers, business analysts, managers, and developers together to create a Hexawise user group.
In these group sessions, she thought it would be a perfect way to develop skills by including the Hexawise team and reviewing concepts and strategies while designing Hexawise plans for their specific projects. By this group meeting once a week, skills would begin to develop so that teams could better align to the division's overall testing goals for 2019. She thought that this was the perfect way to encourage collaboration and excitement around the use of Hexawise. She knew that by utilizing Hexawise, they would ultimately be able to design better, smarter sets of scenarios for their respective projects.
At Hexawise we love to see our clients using their minds to make the most of Hexawise in their organization. This effort was another great example of the creativity of our clients. We encourage our users to collaborate while adopting Hexawise.
Hexawise encourages collaboration throughout the test design process.
Hexawise tests are different by design - testers and stakeholders need to come together to think about this new approach to thoroughly and efficiently test their systems. And this company's Hexawise user group was the perfect way to do just that.
There have now been several sessions for the Hexawise user group at this insurance firm.
During each meeting, there is a set agenda that will range from lessons on Hexawise features to designing Hexawise plans together for specific projects. Meetings are held during the teams' lunches for an hour, so there is plenty of time for discussion without interrupting participants' busy schedules.
Now, given this example of a Hexawise user group, I challenge you to begin thinking about how these types of meetings could provide value to your teams. To make these user groups as successful as possible though, there are several key success factors:
Be realistic.
Hexawise skills are not developed overnight. Prepare for this gradual development by utilizing the first couple of user group sessions for introductory lessons and reviews of key Hexawise concepts and features. These skills need to be developed before anyone begins to effectively apply Hexawise. Remain patient with attendees and continuously remind attendees that by developing these skills they will ultimately be able to generate extremely thorough, efficient sets of scenarios with Hexawise.
Set clear expectations.
Make sure everyone is on the same page at the very beginning of the very first session. Send out an email before the first session that outlines the specific agenda and what needs to be brought to the meeting, and do this for every session thereafter. Remind people to utilize the time wisely by asking good questions that provoke insightful discussions around Hexawise. Make it mandatory to join these sessions. Or maybe management creates a "Hexawise first" rule that makes it so everyone must at least try to use Hexawise on all future projects (and involving experts where necessary) before deciding whether or not the tool is applicable. Whatever your organization's set expectations end up being, ensure they are clear and that all user group members stick to them.
Should usage of a new tool or approach be completely mandatory or completely optional? More frequently, guidance from management to teams falls somewhere in between these two ends of the spectrum. Not surprisingly, managers would like to see new tools like Hexawise used where they will be a good fit. But who decides whether it would be a "good fit"? People unfamiliar with the benefits of a new tool or approach may well dismiss it out of hand for invalid reasons such as inertia or a resistance to change. Therefore, many of our clients have found it useful to require teams use Hexawise on all projects unless an expert (like Deidra in this case) determines that it would not be a good fit on a given project. Experts who are knowledgeable about the benefits and limitations of using Hexawise (and knowledgeable about how to quickly overcome minor roadblocks) should be involved in "use" / "don't use" decisions.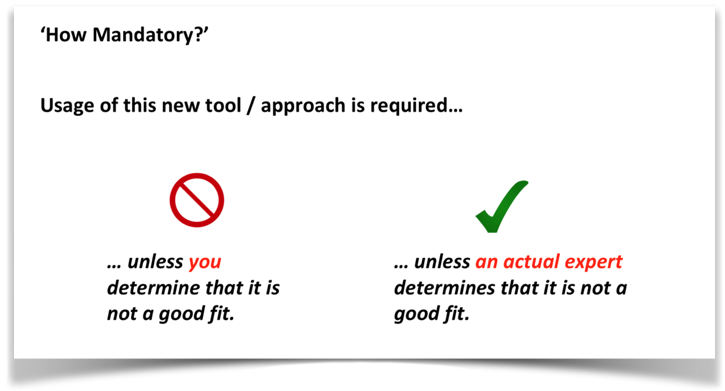 Come with projects and scenarios.
In order to develop skills using real, relevant examples during particular user group meetings, make sure that team members offer to bring their own scenarios or projects to the group sessions. This way, there is never a shortage of examples that attendees can use to gain experience together in collaborating to build smarter, better Hexawise test plans. This relevant project experience is what will truly propel users to the next skill levels. Even if a particular project does not pertain to every attendee, it is still worth their time to see how the Hexawise test design process can be applied to the given situation.
Cultivate an open mindset.
Again Hexawise tests are different - by design. The concepts behind Hexawise, specifically pairwise testing and combinatorial test design strategies, are frequently new ideas to testers and it may take them time to understand the value they provide. When users recognize their previous, typically manual and inefficient ways of designing tests and focus their attentions towards approaching Hexawise with open minds, they will see why Hexawise does what it does. Once these new test design foundations are established, people quickly begin to see the benefits of leveraging Hexawise to design smart sets of tests. Remind user group members to maintain this open mindset and approach each session with a goal of becoming more well-equipped to utilize Hexawise to its maximum potential.
Work outside of the group.
It will not be sufficient to simply work on developing Hexawise skills during user group sessions. Trying out Hexawise on respective projects, applying concepts learned during group meetings, and working with teammates is critical to maintaining the Hexawise mindset shift and skills necessary to generate optimized sets of tests with the tool. Encourage members to meet with each other and other stakeholders outside of these weekly meetings, or perhaps even make it mandatory for users to leverage Hexawise on their specific projects every time test design is needed. Then, when questions or issues arise, they can be addressed during the Hexawise user group. As an attendee in the insurance firm's user group put it, "The more you use it, the more you see the benefits of using it."
Include us!
Our team encourages you to include a Hexawise Test Design Expert (like myself) in these user groups. The benefits of doing so include having an expert present to answer questions related to Hexawise features, concepts, and strategies, as well as assisting in cultivating the Hexawise mindset shift that is needed when adopting the tool. Important note: this will not cost your organization anything. We are more than happy to assist in any way we can to ensure initiatives like this are as successful as possible.
"The support we are getting from the vendor is amazing! The way they are answering our questions on the spot as we walk through the test plans is so helpful." - attendee at the insurance client's user group
| | | |
| --- | --- | --- |
| Should you consider these ideas, please feel free to reach out using any of these methods: | | |
"Teamwork makes the dream work."
At the conclusion of each session, Deidra displays this quote for the group to see. Hexawise as a tool and service embodies this simple, yet representative quote. We encourage each Hexawise user to collaborate as much as possible with fellow testers, business analysts, developers, and other stakeholders to develop strong, thorough Hexawise plans. Discuss how to include aspects of a system as Hexawise inputs, review details of test plans with business analysts, or have a client sign off on Hexawise scenarios that have been generated. By boosting communication while designing smarter, better tests, you ensure that you are generating sets of tests that can increase testing coverage while decreasing the number of tests.
I urge you to consider how you can form a Hexawise user group at your own organization. Not only will you ultimately generate effective, optimized sets of Hexawise scenarios, but you may just find yourself improving the overall processes amongst your teams as well.
Should you have any questions or comments about a starting a user group, please do not hesitate to reach out to the Hexawise team.
---
Conor is a Consultant at Hexawise.

He graduated from the University of South Carolina, Columbia and is originally from Baltimore, Maryland.

Conor has a passion for working with people to achieve success in their work, among other interests such as fitness, music, and the outdoors.